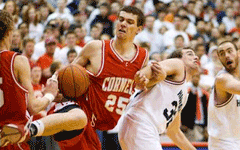 December 6, 2009: Game #9: Cornell versus Saint Joseph's
Open the Flood Gates
In his first ever collegiate start, Jaques played 23 minutes and scored 15 points as the Big Red defeated the Hawks of Saint Joespeh's.
Two weeks later, on December 20th, he played 12 minutes and contributed 5 points in a win against Davidson University in the first game of the Holiday Festival at legendary Madison Square Garden in Manhattan.
December 21, 2009: Game #11: Cornell versus Saint John's
The Big Apple
The following evening at The Garden, with the game televised nationally on ESPN, John Jaques officially arrived.
Jaques led Cornell to a most impressive win over an extremely tough Saint John's team. He did so by playing 26 minutes, shooting 7 for 8 from the floor, 5 for 6 from the 3-point line, and scoring a team high 20 points while playing his trademark intense defense.
Jaques said, "The biggest improvement in my game is my individual confidence. You can be as talented as you want, but if you don't have the confidence to go out there and perform in a game, you're going to struggle.
"Dowling came in and talked to us about the importance of forgetting the last play—whether it was good or bad—and moving on to the next one as a fresh start. That kind of hit home with me. I've always been my biggest critic. That's probably been one of the reasons I've not had a lot of confidence in the past."
March 16, 2010
3-Peating and the Big Dance
Cornell did indeed win their third straight Ivy League Championship by going 13-1 in conference play. They earned their third straight automatic bid to the NCAA tournament and finished the regular season with a 27-4 record.
Jon Jaques started 22 games for the Big Red. He averaged 8 points per contest and shot 50% from the floor while leading the team in taking defensive charges. And guess who led the Ivy League in overall 3-point shooting percentage? That's right. Jaques shot 39 of 80 from behind the arc for the season.
"In my 25 years of coaching, I've never experienced anything like it, and I think the rest of the league feels the same way." Coach Donahue continued, "Yeah, he hadn't played in three years, essentially not a meaningful minute, which is hard to imagine, but the difference he's made is phenomenal. I think he's taken our team to a new level."
And this year they were just getting started.
March 19, 2010
Jacksonville Veterans Memorial Arena, Jacksonville, Florida
NCAA Tournament, Round 1
#12 Seed Cornell versus #5 Seed Temple
Cornell won their first ever NCAA tournament game and became the first Ivy League team since Princeton in 1998 to advance past the first round. The Big Red rather easily disposed of Temple, winning 78 to 65.
Senior Louis Dale led Cornell with 21 points and contributed 7 assists while the Big Red shot 56.3% from the field. They hit on 9 of 23 3-pointers and committed only 11 turnovers.
Jon Jaques played 34 minutes and contributed 6 points and 4 rebounds.
March 21, 2010
Jacksonville Veterans Memorial Arena, Jacksonville, Florida
NCAA Tournament, Round 2
#12 Seed Cornell versus #4 Seed Wisconsin
Cornell continued its historic run through the heart of March Madness with an unbelievable 18 point win over the 4th seeded Wisconsin Badgers.
Cornell's extraordinary seniors once again broke the game open with an early run and coasted to the finish line. Lois Dale had a career high 27 points, Ivy League player of the year Ryan Whitman scored 24, 7-foot center Jeff Foote contributed 12, and Jon Jaques chipped in with 9 points.
The win propelled the 12th seeded Big Red into the East Regional semifinals—the Sweet 16. The game was played just an hour from Cornell's Ithaca, New York campus at the Carrier Dome in Syracuse, against the top seeded Kentucky Wildcats.
March 25, 2010
The Carrier Dome, Syracuse, New York
The Sweet 16
#12 Seed Cornell versus #1 Seed Kentucky
Playing about an hour from home on the campus of Syracuse University, this epic event in the history of Cornell University athletics was essentially a home game.
The Neuman Nation (Cornell's fans were nicknamed for the arena namesake where the Big Red plays their home games) were out in force. An endless sea of red engulfed the tiny specs of Kentucky blue throughout the enormous Carrier Dome.
After trailing by 16 at halftime, Cornell was able to cut the lead to six late in the game. But that was as close as they would come. The Cornell dream season came to an end as the Big Red fell to Kentucky 62 to 45.
As the game rolled to its anticlimactic ending, The Newman Nation began chanting: "Thank you, seniors! Thank you, seniors!"
Coach Donahue said after the game, "I've been in this league (Ivy) for 20 years, and I've had three NBA players on one team (University of Pennsylvania) that didn't accomplish nearly what this team accomplished. I know it sounds corny, but they love each other more than any other team in this tournament, in my opinion. That's why we're good."
Cornell finished the season with 29 wins and 5 losses and a historic appearance in the Sweet 16.
Jon Jaques started and played 18 minutes with 0 points in his final college game.
But he still had one final chapter to write.