Joe served as the Philadelphia Eagles mental strength clinician from 2019-2021. He currently is a mental health, peak performance professional working the Eagles players and coaches. Since 2015, Joe has been the peak performance/mental health training coach for the University of Pennsylvania men's and women's basketball program. Joe also works with the PENN women's lacrosse team and men's soccer team.
Joe has served as the peak performance/mental health clinician for the Rutgers women's lacrosse team since 2021. The Scarlet Knights completed their best season in school history in the spring of 2022, finishing #10 in the national rankings, playing in the Big 10 Championship game, and winning an NCAA Tournament game.
Joe has worked extensively with athletes on the high school, collegiate, and professional levels for 20 years.  He is a specialist in sport and performance psychology who guides clients via specialized zone exercises to create and maintain peak performance.  He emphasizes the unique strengths of each individual while magnifying their personal history of success and their future memories of success.
ZONEfulness® is the integration of mindfulness meditation, peak performance zone exercises, and positive psychology. ZONEfulness® is a deceptively, profoundly simple guide designed for athletes to generate and maintain peak performance by accessing the zone that lives inside of each individual.
Joe maintains that the most extraordinarily common obstacle preventing athletes from accessing and consistently experiencing their best performance is self-criticism and doubt. Ironically, the most self-defeating athletes are typically the most supportive of their teammates. Thus practicing self-support becomes every bit as crucial as physical training. The competitive advantage will routinely go to the zoned in, self-supportive athlete.
Joe facilitates sport psychology and team building workshops for teams in the Philadelphia area as well as throughout the country.  He has designed and implemented programs for student-athletes at Cornell University, Boston College, LaSalle College High School, and The Agnes Irwin School, to name a few of his clients.
Joe provides individualized peak performance zone recordings that highlight the past and future memories of success for each client. Joe teaches athletes The Big Three of Peak Performance:
1) Extreme Self-Support (Internal Strength)
1a) Support from family, friends, coaches, teammates (External Strength).
2) Personal History of Success (Positive focus on past peak performances and outcomes). Magnifying the good.
3) Future Memories of Success (Positive focus on future peak performances and outcomes). What-willing: "What will it be like when I succeed?"
By mastering The Big Three of Peak Performance, athletes are enabled to dissolve The Toxic Three of Poor Performance:
1) Self-criticism (negative self-talk; analyzing and agonizing).
2) Why-ning (negative focus on past poor performances and outcomes). "Why did I do that?"
3) What-ifing (negative focus on future poor performances and outcomes). "What if I fail?"
Articles
Joe In the News: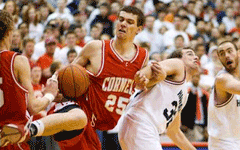 Jon Jaques Emerges as Starter After Career Spent on the Bench
Getting into the Zone at Cornell
Published Articles:
Sport Psychology: It's Not Just Imagery & Relaxation
Favorite Quotes
"Do not let what you can not do interfere with what you CAN do."  –John Wooden, Hall of Fame College Basketball Coach
 
"If you can BELIEVE it, the mind can ACHIEVE it."  –Ronnie Lott, NFL Hall of Fame Safety
 
"Never give up!  Failure and rejection are only the first step to succeeding." –Jim Valvano,  Head Basketball Coach, 1983 National Champion North Carolina State Wolfpack)
 
"Make sure your worst enemy doesn't live between your ears."  –Laird Hamilton, American Big Wave Surfer
 
"Somewhere behind the athlete you've become and the hours of practice and the coaches who have pushed you is a little girl who fell in love with the game and never looked back…Play for her. –Mia Hamm, National Hall of Fame Soccer Player, 2004 Olympic Gold Medalist.
"I always won in my imagination.  I always hit the game winning shot or I hit the free throw.  If I missed, there was a lane violation, and I was given another shot." –Mike Krzyzewski, Hall of Fame Basketball Coach of Duke University